FOR IMMEDIATE RELEASE
【News Release】
[TAIROS 2022 Is Right Around The Corner!]
Eys3D & Etron Tech Joint Exhibit A New Generation of 3D Stereo Vision Depth Processor – eSP879. Welcome Collaborative Partners to Develop Market in Robotics, Smart Machine, and Computer Vision Applications
      With the continuous growth of robotics, smart manufacturing, and AR/VR on Metaverse, 3D Computer Vision (CV) has become the essential technology to enable the intelligence of machines. Accompanying the booming of the market, the demand of high precision and performance poses challenges to stereo vision solutions. eYs3D Microelectronics and Etron Technology (TPEx: 5351. TW) are committed to innovation of 3D computer vision products and proudly announcing their new generation of Stereo 3D Depth Processor – eSP879. This innovative chip is integrated with a state-of-the-art 3D depth engine of great adaptability to accommodate both low-light indoor and strong-light outdoor environments. While Time-of-Flight (ToF) and pure Structured Light solutions cannot perform well under strict conditions, eSP879 is able to output clean, clear 3D depth-map for Point Cloud generation. Through the processing edge structures in images, eSP879 significantly reduces the demand of computing power and the amount of generated data. eSP879 provides the advantages of both adaptability in application scenarios as well as cost-effectiveness.
eSP879 captures two input video streams simultaneously to calculate depth-map for output. The built-in ISP and innovative depth engine filter ambient noise and handle complex lighting conditions to deliver a high quality image and depth-map. These features provide excellent performance for machine vision and machine learning functions including VSLAM, obstacle avoidance, object recognition, and others. These functions are essential for robotics, AR/VR and Metaverse applications.
eSP879 can generate and output 100 frames per second of 3D Point Cloud data along with the original input video stream to the host system via Super Speed USB 3.1 Gen1 or MIPI interfaces. These video and depth map data provide extensive flexibility in data processing for image recognition and offer excellent user experiences.
The adaptive edge-feature optimization depth engine makes the applicable scenarios more flexible. It can be used for indoor/outdoor, strong/low light, long/short distances and output high quality video/depth-map without impairment by environment condition. It is an ideal solution for diversified applications and can significantly reduce system computing requirements.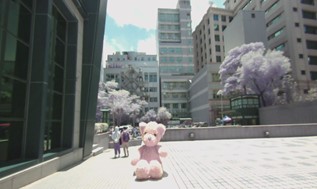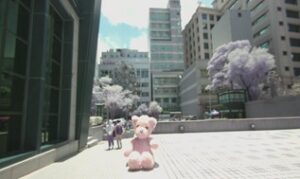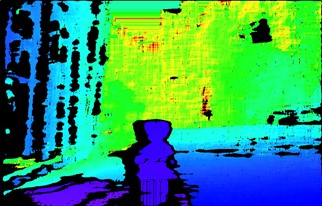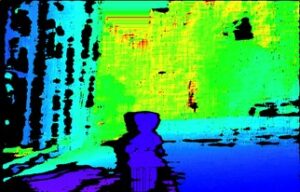 Picture: (Left) The original color image seen by the human eye
(Right) 3D Depth-map synthesized image as seen by robot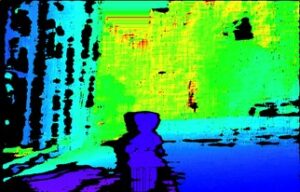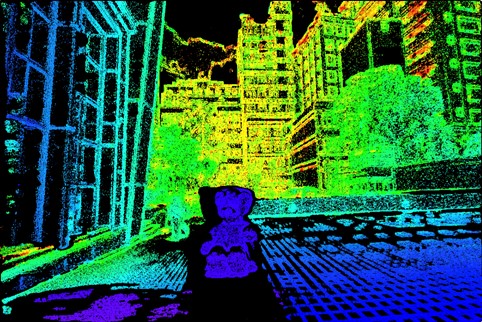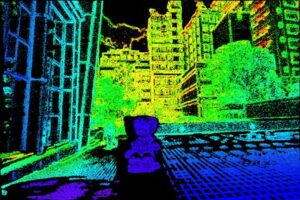 Picture: (Left) Per-pixel 3D depth-map illustration
(Right) 3D depth-map illustration by the eSP879 with edge-feature optimization
The new generation of 3D Stereo Vision Depth processor eSP879 for 3D sensing applications will be showcased at the eYs3D booth (#N1425 at Hall One 4th floor & #P928 at Hall Two 1st Floor at Nangang Exhibition Hall) in Taiwan Automation Intelligence and Robot Show 2022. We sincerely invite you to visit our booth and experience the demo of these innovative and industrial leading products.  Feel free to talk to our exhibition associates to explore business opportunities. For further information, please visit www.eYs3D.com, www.etron.com.
About eYs3D Microelectronics
eYs3D Microelectronics Corp. pioneers in 3D sensing technologies, and aims to develop semiconductor oriented technologies and products related to 3D vision-simulating computer vision technologies integrated with computer intelligence. With its strong foundations and experiences in memory design and computer vision, as well as close co-operations with its parent company- Etron Technology, Inc., and ARM Holdings Plc., eYs3D strives to develop new technologies and advantaging computer vision chips and subsystems, targeting blue-ocean markets such as smart products, intelligence of things (IoT), and industrial and consumer level automations, aiming to become a leading brand in the market of computer vision processing. www.eys3d.com
About Etron Technology, Inc.
Etron Technology, Inc. (TPEx: 5351.TW) is a world-class fabless and heterogeneous integration IC design company that specializes in application-driven buffer memory, known-good die memory (KGDM), long-retention time DRAM (RPC DRAM), and other artificial intelligence and machine learning induced DRAM products. Etron also develops system-in-packages, including high-speed transfer interface chips of USB Type-C, and 3D depth sensing computer vision and panoramic image capturing chips. www.etron.com
Etron Technology America
Tel: +1-408-987-2255
Email: sales_america@etron.com
Corporate Spokesperson:
Ms. Justine Tsai
Corporate Deputy Spokesperson:
Mr. Eason Cheng
Tel: +886-3-578-2345 #8670
Email: pr@etron.com.tw