COMPUTEX has experienced significant growth and transformation alongside the industry, solidifying its reputation as the world's leading platform. This year, Computex will once again be held in Taipei, and Etron Tech Group cordially invites you to attend. The expo will center around the theme of "Together we create," showcasing the latest technology trends that encompass High Performance Computing, Artificial Intelligence Applications, Next-Generation Connectivity, Hyper-reality, Innovations and Startups, and Sustainability.
Etron Tech Group utilizes IC products to advance the vision of "Empowering the Future of Mobility." Through this vision, electronic products are endowed with mobility capabilities, incorporating Memory+AI, Multiple Vision Computing, USB 4K Delivery, and Differential Privacy Computing. These advancements serve to develop innovative products that enrich life values through enhanced mobility.
Etron will showcase its vehicle memory solutions for the new era of smart mobility at Computex 2023. We cordially invite you to visit our booth at N0302, 4th Floor, Hall 1 of the Taipei Nangang Exhibition Center from May 30 to June 2. We also welcome collaboration with system manufacturers to create a win-win situation! Visit www.etron.com.tw for more information."
A New Era of Intelligent Mobility with Etron Memory
| | |
| --- | --- |
| KOOLDRAM® –  4Gb DDR3, Significantly Performance Improvements in High-Temperature Environments | The innovative KOOLDRAM, 4Gb DDR3 memory solution, which extends DRAM long retention time under JEDEC standard, achieving long retention time of up to 100% > 104 milliseconds (ms) at high temperatures up to 125℃, supporting at least 48ms of Refresh Time (tREF) specification which is much higher than the industry-standard 8ms, significantly improving performance in high-temperature automotive environments. |
| RPC DRAM® has passed the automotive standard AEC-Q100 Level 2 verification, meeting the requirements of automotive memory applications. | Etron Tech, with its independent research and development, has recently made significant strides in the automotive field with its RPC DRAM, which is the world's first Wafer-Level Chip Scale Package (WLCSP) chip. Compared with DDR3 products with the same bandwidth, the x16 256Mb RPC DRAM reduces the number of pins by half and shrinks the PCB area to one-tenth. In the trend of increasing use of automotive electronics, it provides the best utilization rate in limited space. This product has passed the international automotive standard AEC-Q100 Level 2 verification and meets the application requirements of automotive memory. |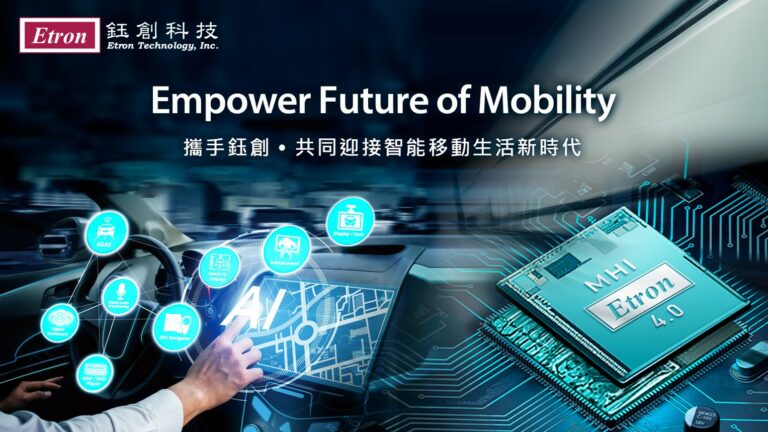 Source: Intelligent Mobility with Etron Memory by Etron Tech
Enhancing Computer Vision to Empower Service Robots' Mobility and Flexibility
| | |
| --- | --- |
| The smallest computer vision module product, eCapture G53 -has successfully been implemented in service robots | ​eYs3D has successfully introduced its smallest module product, eCapture G53, into new startup robots. Through the application of computer vision technology, it provides service robots with more intelligent and convenient object recognition and obstacle avoidance. Computer vision technology performs outstandingly in object recognition and obstacle avoidance. With advanced deep learning algorithms and efficient image processing technology, robots can quickly and accurately identify surrounding objects and respond accordingly. This enables the robots to autonomously avoid obstacles, ensuring safe and smooth movement. |
| The dustproof & waterproof intelligent dual-lens sub-systems – beneficial for the application of AI visual sensing in outdoor and harsh environments | eYs3D Microelectronics' Intelligent Dual-lens Sub-systems can be paired with our upcoming advanced process chip, combining cutting-edge technology for outstanding performance and durability, making it suitable for applications that require operation in harsh environments. With its IPX3-rated protection, the camera module can effectively resist the ingress of sprayed water and rainwater, thereby protecting internal components from moisture. |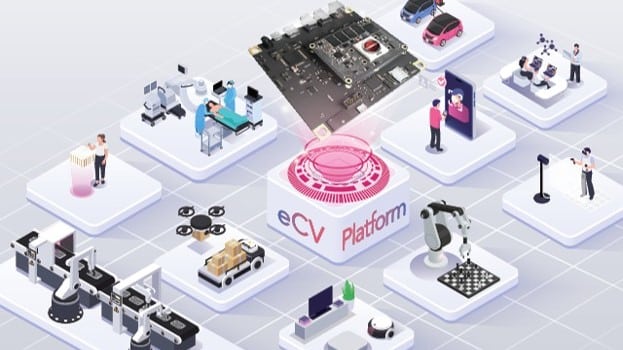 Source: An Intelligent Platform Empowered by Computer Vision and Sensing by eYs3D
Super High Speed Transmission for Audio Video Streaming
| | |
| --- | --- |
| New Geneation Stream Processor Unit (SPU) – EJ523D Audio/Video Signal Processor, Supports Ultra-High-Definition Video Caprue Up to 4K2K 60FPS | As audio and video streaming technology continues to evolve, more innovative applications are emerging, including live eSports, live product sales, video conferencing, telemedicine, industrial remote assistance, and training, etc. Audio and video signal processors are critical when switching or combining multiple audio and video signals. HDMI is the standard output format for many audio and video devices. The new generation audio and video signal processor SPU-EJ523D can be easily connected to various audio and video sources for streaming using the USB 3.2 gen1 port and any HDMI device such as smartphones, computers, or game consoles. It converts audio and video input signals to USB output signals and transmits them to PCs, laptops, smartphones, and tablets. With support for 4K2K 60FPS HD video quality, it can adapt to different platforms for image capture and live streaming to meet various application needs. |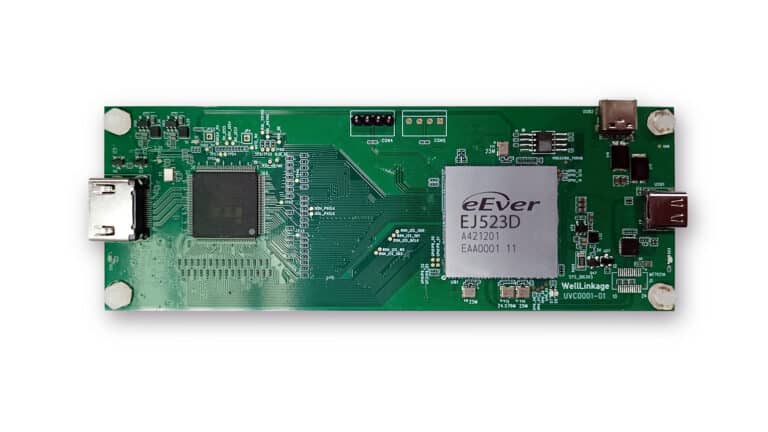 Source: New generation Stream Processor Unit (SPU)–EJ523D by eEver Tech
Differential Privacy for Information Security
| | |
| --- | --- |
| SOE Enterprise, an AI-powered sensitive information detection and sophisticated protection for cloud-based enterprise file management | Cloud File Secure and Searchable Encryption Engine with AI-Driven PII and TSI Detection (SOE Enterprise) for enterprise cloud file systems. One of the major features of this product is that uploaded files will undergo a general or customized PII and TSI with AI scanning at the user end in an offline manner before the file is stored in the cloud or shared with others under encrypted or de-identified state. Even in an untrusted cloud environment, the content of the files is absolutely protected from any unauthorized third parties including cloud service providers.  SOE Enterprise is highly beneficial for individuals and enterprises with demanding requirements for personal privacy or trade secrets protection. |
| DeCloakFace system, a facial recognition system that ensures privacy by not storing original personal facial information | DeCloakFace, a trustable AI facial recognition system for obfuscated images that developed with advanced facial recognition technology for identity verification, it also implements de-identification mechanisms to ensure user privacy protection. |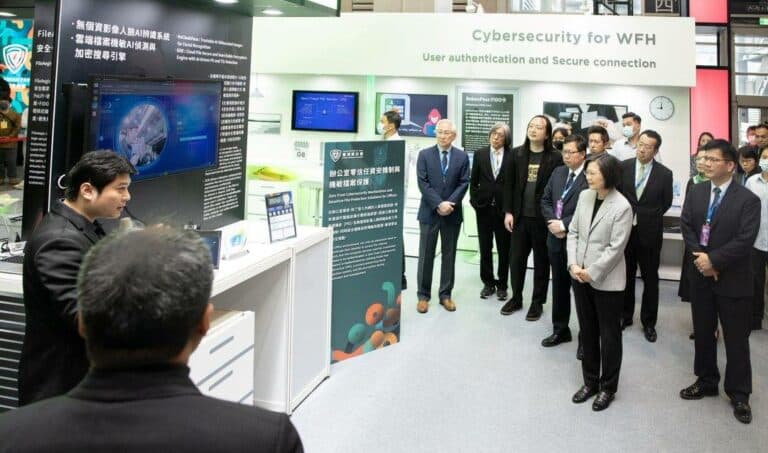 Source: President Tsai Ing-wen Visits DeCloak Booth at the Cybersecurity Conference on 9th May 2023
Etron and its subsidiaries, with IC subsystems as the core and intelligent mobility as the focus, combined with high-speed transmission of audio-video streaming, along with differential privacy for data security, demonstrate a diverse range of innovative application solutions, including:
A New Era of Intelligent Mobility with Etron Memory
Enhancing Computer Vision to Empower Service Robots' Mobility and Flexibility
Super High Speed Transmission for Audio Video Streaming
Differential Privacy for Information Security
Come and visit our Computex'23 booth to experience the demos and chat with our in-house experts. The Computex 2023 Taipei International Computer Exhibition will take place from May 30 (Tuesday) to June 2 (Friday), with Etron showcasing at Booth No. 0302, 4th floor of Taipei Nangang Exhibition Center Hall 1.