The Innovation Awards are sponsored by CTA, the host and organizer of CES – recognized worldwide as the global stage for innovation and the most influential tech event. Etron Tech (TPEx: 5351.TW), a world-class fabless IC design and product company specializing in application-driven memories, announced today that its new start-up innovation has received the CES® 2023 Innovation Award. From a record high number of over 2,100 submissions, DeCloakFace, an obfuscated image deep learning facial recognition model, was selected as an honoree in the Cybersecurity & Personal Privacy category. It is developed by Etron's new start-up/affiliated company – DeCloak Intelligences.
With the rapid development of artificial intelligence (AI) technology, the adoption of facial recognition for identity verification is becoming more popular than ever. DeCloak Intelligences has developed DeCloakFace, an obfuscated image deep learning facial recognition model whose aim is to protect data privacy of enterprises that adopts facial recognition as a login or access control choice. DeCloakFace does not require a hardware key for its solution and conducts secure identity verification in a way that does not leak privacy. The innovative and unprecedented solution has brought a great deal of attention from industries including: finance, healthcare, cryptocurrency and e-signature platforms, where identity verification or multi-factor authentication is required.
With a high efficient algorithm architecture, DeCloakFace requires only one obfuscated image for its microsecond-level AI training. When users log in with DeCloakFace, their facial data is securely protected because only the obfuscated images will be transmitted to cloud and their actual facial photos will not be stored on premise or transferred to cloud.
CES 2023 will take place in Las Vegas from January 5 to 8, and Etron Tech Group would like to invite you to attend this prestigious event. CES is the most prominent tech event in the world. Etron uses IC products to fulfill "Pervasive Intelligence Heterogeneous Integration," which endows electronic products with AI and the capabilities of the brain, eyes, and nerves, as well as privacy to develop innovative products and enrich life values.
In order to facilitate design-in for AI and deep learning/information security, the award-winning DeCloakFace, along with DeCloak's latest innovation, will be on display at (1) CES Unveiled Las Vegas on January 3, (2) the CES 2023 Innovation Award Showcase (Venetian Expo, Hall D, Booth #56320), (3) Taiwan Tech Arena (Eureka PARK, Booth #62500), (4) Etron Tech Group (LVCC, Central Hall, Booth #15769) during the CES 2023 trade show period. System manufacturers are welcome to experience our innovative and industry-leading products and explore business collaboration opportunities. For further information, please visit https://de-cloak.com/en/home-en/.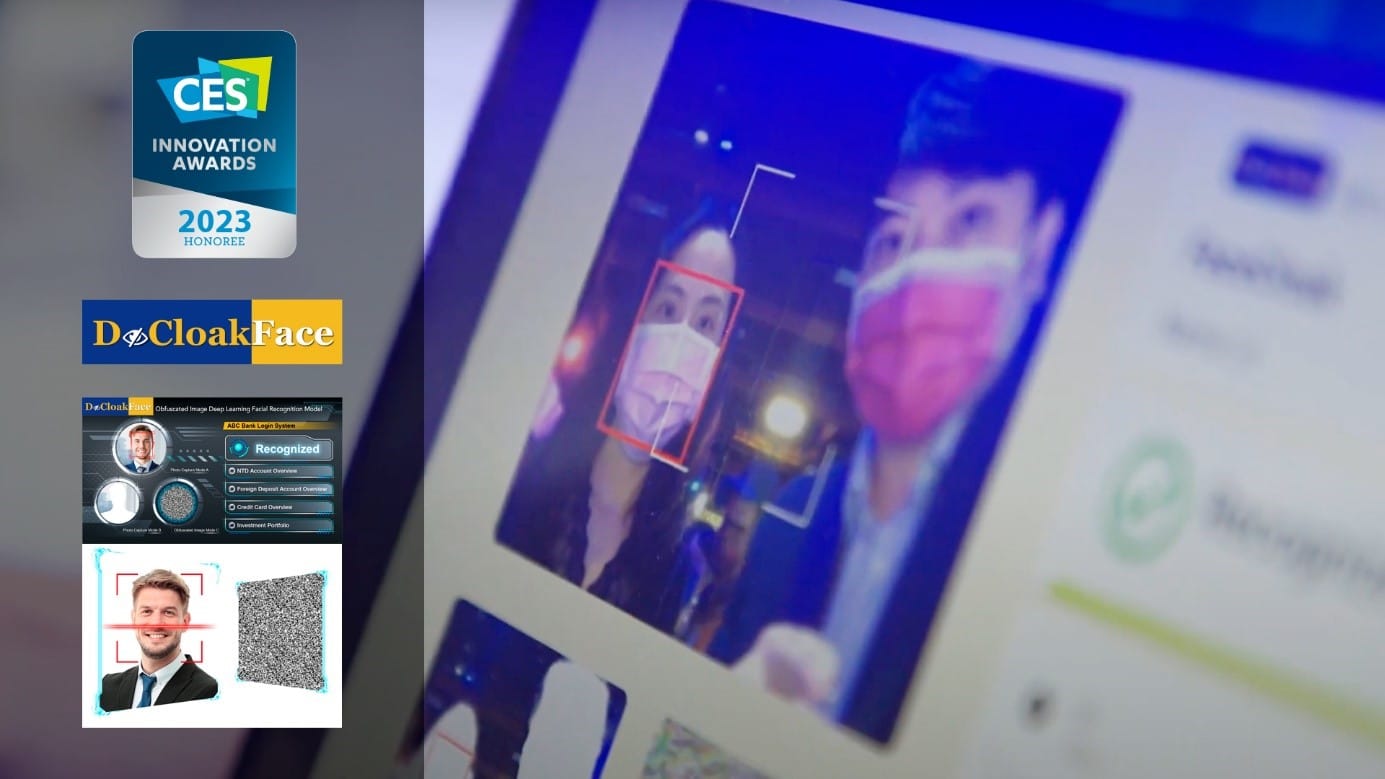 Source: https://www.ces.tech/Innovation-Awards/Honorees.aspx
About DeCloak
DeCloak's privacy computing solutions can be deployed through either software or hardware. With DeCloak's patented corresponding AI prediction algorithm, all data processed can remain highly analyzable while preserving total privacy. The processed data is transmitted to the background or cloud in a de-identified format, and enterprises can use the AI ​​prediction model to run data analysis and architect big data trends.
About Etron Technology, Inc.
Etron Technology, Inc. (TPEx: 5351. TW) is a world-class fabless and heterogeneous integration IC design company that specializes in the application-driven buffer memory, known-good die memory (KGDM), and long-retention time DRAM (RPC DRAM), and other artificial intelligence and machine learning-induced DRAM products. Etron also develops system-in-packages, including high-speed transfer interface chips of USB Type-C and 3D depth sensing computer vision and panoramic image capturing chips.
Media Contact:
Etron Tech Ms. Justine Tsai Tel: +886-3-578-2345 #8670 Email: pr@etron.com.tw
DeCloak Ms. Vicki Chang Tel:+886-2-8751-1691#2204 Email:vchang@de-cloak.com