FOR IMMEDIATE RELEASE
【News Release】
[Preview@TAIROS 2022] eYs3D Microelectronics World Leading Computer Vision Solution Provider Launches Stereo 3D Depth Camera – YX8077 Features 105 Degree Ultra-wide Angle Field of View (FOV) & High-Precision Image Processing; Suites for Outdoor and Low-light Indoor Environments to Create 3D Depth for Trending Applications like 6dMVerseTM, Industrial & Service Robots
      3D sensing technologies are flourishing in the market that endowed more and more machines with the ability to perceive, act and interact with the environment.  It's like adding a pair of eyes to the machines that drastically reduces the interaction barriers of human-machine collaboration. As robotic designs become more mature and innovative, robots for Cobot, AGV & AMR, require different visual functions for different operation scenarios. eYs3D Microelectronics Corp. cooperates within Etron Technology, Inc. (TPEx: 5351) joint exhibit one of a kind stereo 3D depth processor and its subsystem – YX8077 stereo depth camera that is installed patterned light projector with 105 degrees ultra-wide angle FOV for Metaverse 6dMVerseTM applications. The YX8077's support features can also empower the visual system of robotics design becoming more versatile and smart that can meet the usage in industrial and service robots as well as the advent of the Metaverse.
105 Degree Ultra-wide Angle FOV Stereo 3D Structure Light Computer Vision Sub-system – YX8077
        YX8077, 105 Degree Ultra-wide Angle FoV, can be configured to various processing modes with different solutions, from VGA to Full-HD, and frame rates for depth-map output and 3D Point Cloud creation. The camera features stereo 3D depth processing in high-resolution, low-resolution/high-frame rate and low-power consumption.  The built-in ISP and 940nm wavelength active light projector enhance the ability to filter the ambient noise and handle complex lighting conditions so that it can deliver a clean and clear Point Cloud result within its working range.
The stereo 3D active and passive camera – YX8077, equipped with dual lenses of global shutter sensor modules and VCSEL active light source that optimize the infrared optical path design. It enables the high resistance to various ambient light noises. The embedded CV processor, eSP879 3D Depth-Map chip, enhances object edge, optimizes depth de-noising and outputs HD quality 3D depth data up to 60 frames per second frame rate. With 6cm baseline and 105-degree ultra-wide angle horizontal field of view, YX8077 provides the best quality depth-map for Point Cloud creation using in mid-range visual sensing applications.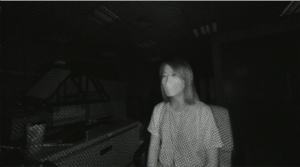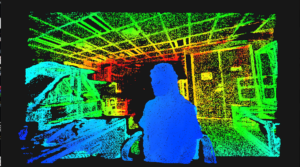 Picture: (Left) High Density Black&White 3D Point-Cloud
(Right) 3D Depth-map used in 6dMVerseTM Application
6dMVerseTM Metaverse Visual Platform (IC+Module for Metaverse)
6dMVerseTM Visual Platform can be used to do facial/body, object scans and 3D model creation for users sharing their virtual 3D figurines in the Metaverse. The 6dMVerseTM comes with the following functions: 3D picture and video; Depth-Map of FSM (Facial, Sculpturing & Modeling) for Nature Reality (NR) that can be shared in VR/AR and other ways with much fun.
(*6 Dimensions of 6dMVerseTM:3D Space (XYZ) + 4D Time + 5D Living + 6D Love)
6dMVerseTM Visual Platform (IC+Module for Metaverse), Stereo 3D Depth Computer Vision Sub-system with 105 Degree Ultra-wide Angle FOV – YX8077, and the new generation stereo 3D depth processor eSP879 for 3D sensing applications will be showcased at eYs3D booth (#N1425 at Hall One 4th floor & #P928 at Hall Two 1stFloor at Nangang Exhibition Hall) in Taiwan Automation Intelligence and Robot Show 2022. We sincerely invite you to visit our booth and experience the demo of these innovative and industrial leading products.  And feel free to talk to our exhibition associates to explore business opportunities. For further information, please visit www.eYs3D.com, www.etron.com.
About eYs3D Microelectronics
eYs3D Microelectronics Corp is the pioneer in 3D sensing technologies and aims to develop semiconductor-oriented technologies and products related to 3D vision-simulating computer vision technologies integrated with computer intelligence. With its solid foundations and experiences in memory design and computer vision, as well as close co-operations with its parent company- Etron Technology, Inc., and ARM Holdings Plc., eYs3D strives to develop new technologies and advantaging computer vision chips and subsystems, targeting blue-ocean markets such as intelligent products, intelligence of things (IoT), and industrial and consumer level automation, aiming to become a leading brand in the market of computer vision processing. www.eys3d.com
About Etron Technology, Inc.
Etron Technology, Inc. (TPEx: 5351. TW) is a world-class fabless and heterogeneous integration IC design company that specializes in the application-driven buffer memory, known-good die memory (KGDM), and long-retention time DRAM (RPC DRAM), and other artificial intelligence and machine learning-induced DRAM products. Etron also develops system-in-packages, including high-speed transfer interface chips of USB Type-C and 3D depth sensing computer vision and panoramic image capturing chips.
Etron Technology America
Tel: +1-408-987-2255
Email: sales_america@etron.com
Corporate Spokesperson:
Ms. Justine Tsai
Corporate Deputy Spokesperson:
Mr. Eason Cheng
Tel: +886-3-578-2345 #8670
Email: pr@etron.com.tw